Paul has done an immense service to my practices. He was contracted to bring life to my project and he delivers. Timely and satisfactory. I look forward to hiring for future projects and definitely will tell my associates!

baskana Private Business Owner

Paul was hired to perform a voiceover role I created for a planned comedic segue in a podcast. I informed him what I wanted for the performance ahead of the recording session. In this case I required a child's voice in the motif of a Saturday morning cartoon commercial break. He prepared for the part and showed up to the recording session ready to go. In fact it went so well and fast that I asked Paul if he minded doing a freestyle reel using the same dialog with any voice styles he could come up with on the spot. The rationale being that it might prove useful if an organic situation presented itself in the podcast where a different voice would work. Paul performed a variety of voices including a pirate-type voice and a sort of snooty British aristocratic voice. Sure enough an unplanned moment occurred during the podcast where the overly British voice was needed and new music was written with Paul's voiceover fitting perfectly. Overall I was extremely satisfied with Paul's work and his very agreeable nature. He's very prepared and ready for action.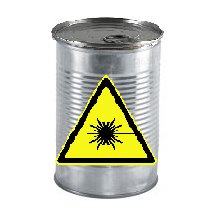 Peter Rende Canned Laser (Podcast)